2013 Marriage Equality Rally (Connecticut)
"I quickly discovered that my legal Connecticut marriage license was paper thin in the eyes of the federal government." (Andrew Sorbo, from his historic testimony before the Senate)
"One day I know that my children will ask me, 'What was all that fuss about?' like we ask what was all the fuss about gaining freedom from England? What was all the fuss about integrating our schools? Every fight for freedom and equality has involved a struggle, and Martin Luther King is absolutely right:  the arc of history bends toward justice." Senator Richard Blumenthal (D-Conn)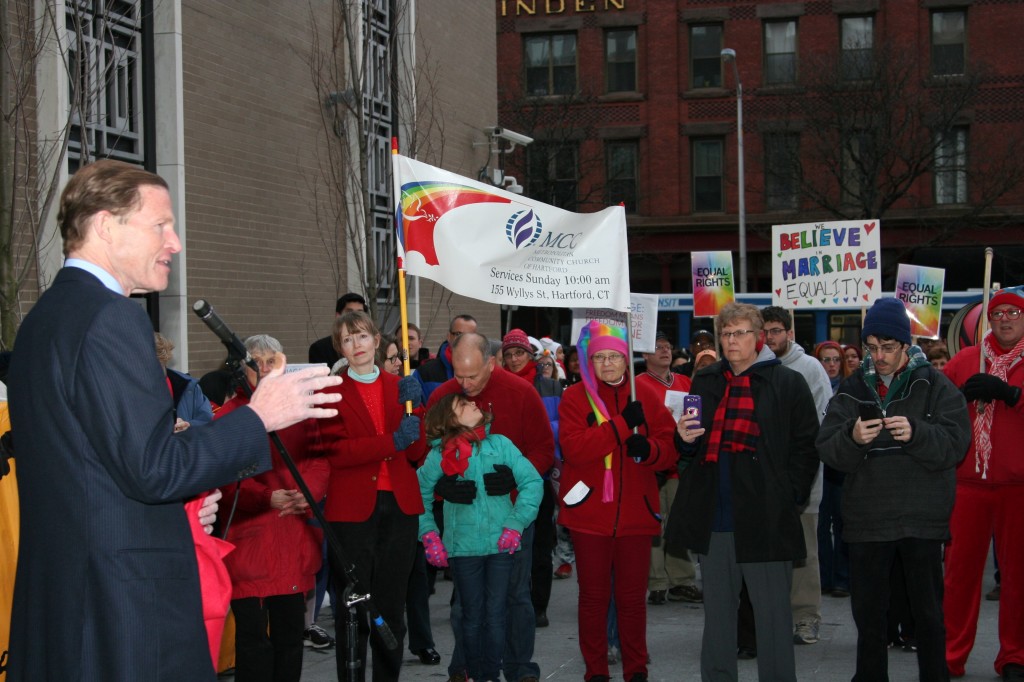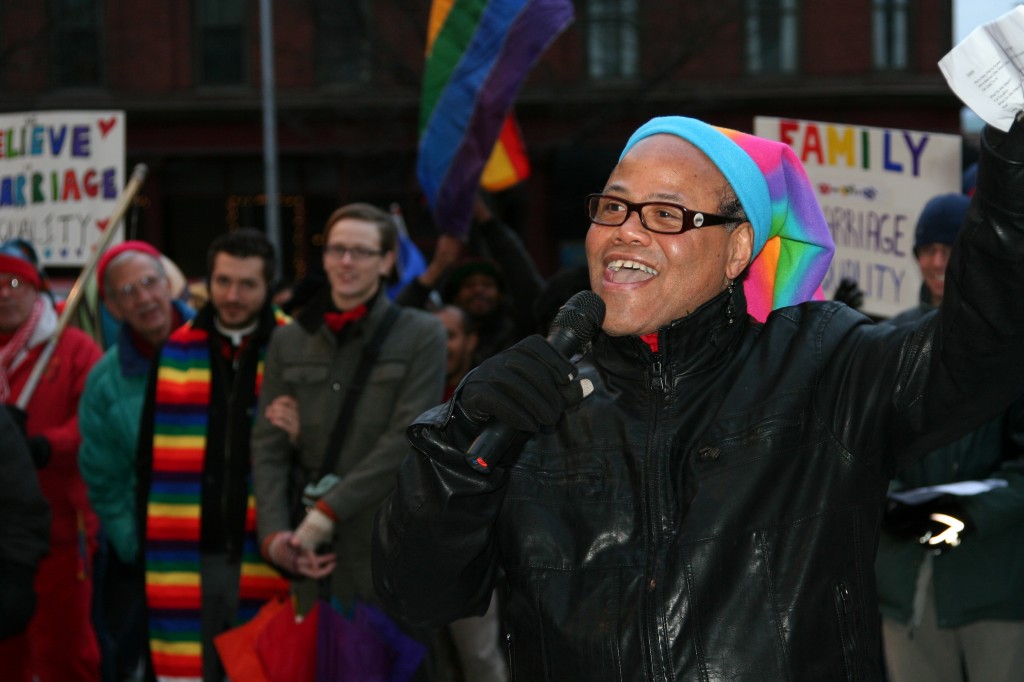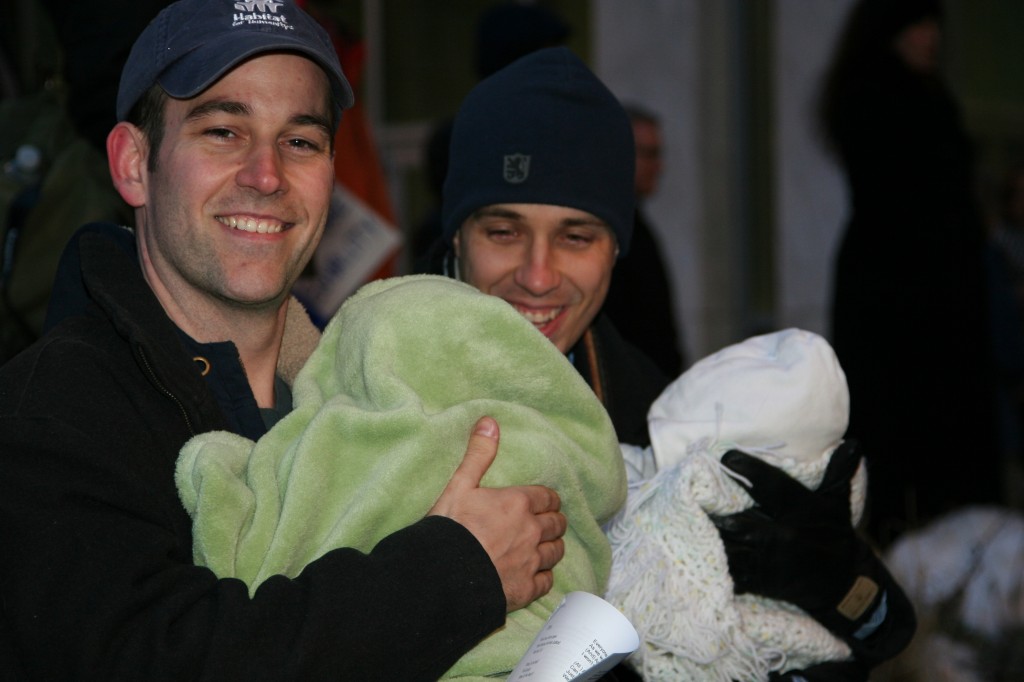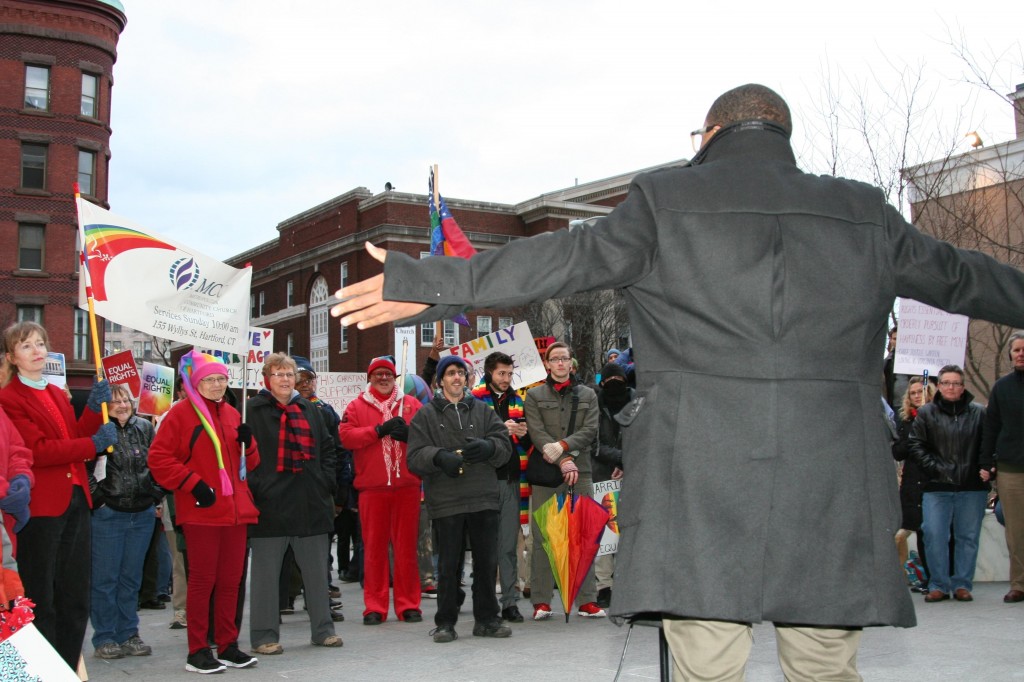 Photos: Vivian Felten
WHEN: Monday, March 25, 2013, 6-8 pm
WHERE: Abraham Ribicoff Federal Building & Courthouse (450 Main Street) in Hartford
PRESS: News Release for Marriage Equality Rally (CT)
FACEBOOK EVENT PAGE: https://www.facebook.com/events/123414877836766/
FACEBOOK COMMUNITY PAGE: https://www.facebook.com/events/123414877836766/#!/pages/Marriage-Equality-Connecticut/426869274058762
Speakers
Event organizer: Chivas Sandage, LGBT author & activist (Twitter @ChivasSandage)
THUMBNAIL REPORT: In Hartford, Marriage Equality Rally CT began with a vibrant march from Metropolitan Community Church to the federal courthouse. The march arrived chanting and we played several "gay anthems" as folks danced and celebrated. Senator Richard Blumenthal (D-Conn) stated: "One day I know that my children will ask me, 'What was all that fuss about?' like we ask what was all the fuss about gaining freedom from England? What was all the fuss about integrating our schools? Every fight for freedom and equality has involved a struggle, and Martin Luther King is absolutely right:  the arc of history bends toward justice." Two former state representatives, three plaintiffs from critical court cases, and a total of 18 speakers plus music by a local folk group contributed to making this an empowering and profound community event. Marriage Equality Rally (CT) was covered by CBS and NBC news, the Hartford Courant, and the Canton Patch. Attendees totaled 150 at the event's peak. All went well with the building manager and the police. They were incredibly helpful and supportive. We ended exactly at 8, were gone by 8:30, and left no trash. In fact, the building invited us back!
ABOUT: People gathered across America for 170 events in all 50 states and D.C. to show their support for marriage equality. What they had in common is that they're part of the United for Marriage: Light the Way to Justice Coalition.
Here in the Nutmeg state, Marriage Equality Rally (CT) took place on Monday, March 25, from 6-8 p.m. at the Abraham Ribicoff Federal Courthouse located at 450 Main Street in Hartford. This peaceful, grassroots, local rally happened the night before the Supreme Court of the United States heard oral arguments on Proposition 8 and the so-called Defense of Marriage Act (DOMA).
Marriage Equality Rally (CT) stood on the side of civil marriage rights as the nation's highest court weighed the constitutionality of institutionalized discrimination by states and the federal government against LGBT Americans.
All were invited to join the pre-rally march that left from Metropolitan Community Church of Hartford at 155 Wyllys Street in Hartford. Marchers gathered at 5:30 p.m. for the walk to the Federal Building.
Quotes from Speakers:
"Last week when paying my taxes and medical bills, our tax burden was higher by over $10,000, and we cannot use my pre-taxed dollars in a flexible spending account to pay for my husband's medical expenses," said Stephen Thomas, President of the Connecticut Stonewall Speakers. "This may all seem like 'only' monetary issues. They are not. Each time we are faced with this reality, it implies my relationship of twenty plus years is less valid then someone else's."
In his historic testimony before the Senate, Andrew Sorbo states: "Our happiness in marriage was tempered by our sorrow that the federal government refused to recognize it. Colin and I were fully aware that his death would jeopardize my financial security. Once he died, I might be forced to sell our beloved home—an eventuality that in fact proved necessary… I quickly discovered that my legal Connecticut marriage license was paper thin in the eyes of the federal government."
This event was dedicated to AIDS activist Spencer Cox (March 10, 1968 – December 18, 2012)
Resources
Twitter Hashtag: #UnitedforMarriage
Organizing Toolkit: http://www.lighttojustice.org/organizing-toolkit.html
Customized Marriage Equality Rally (CT) flyers:
Marriage Equality Rally (1 per sheet)
Marriage Equality Rally (double sheet)
Customizable flyer: Event Flyer
United for Marriage Hand Signs: 20×14 hand signs
United for Marriage Palm Cards: UFM Palmcards
Customizable promotional packet: Promotional Info
Plan Ahead
Sunset: 7 pm
Encouraged— 
Wear red!
Glowing banners and signs in support of same-sex marriage and gay civil rights!
We make a difference by making our communities visible & our voices heard!
Please RSVP: Join this Facebook page & post comments about how you &/or your organization, family, & friends will contribute to this historic opportunity to support civil marriage rights for the LGBTQ community!
Our Ethics
All attendees, please take note:
Marriage Equality Rally (CT) is a celebration of our community, a gathering for testimony, and a call for justice!
This event will only encourage & support peaceful, lawful, respectful behavior.  
While we may respect the concept of non-violent protest and demonstration–this is NOT a protest or demonstration.
We ask all attendees to report any inappropriate behavior to a police officer. In addition, Marriage Equality Rally (CT) has appointed a Liaison Officer and Marshal to communicate with the building & police.
Clean up crew: All of Us! Let's leave the federal building, sidewalks, & street cleaner than we find them!