Subpoenaed by Assailant's Attorneys 
(November 4, 2016)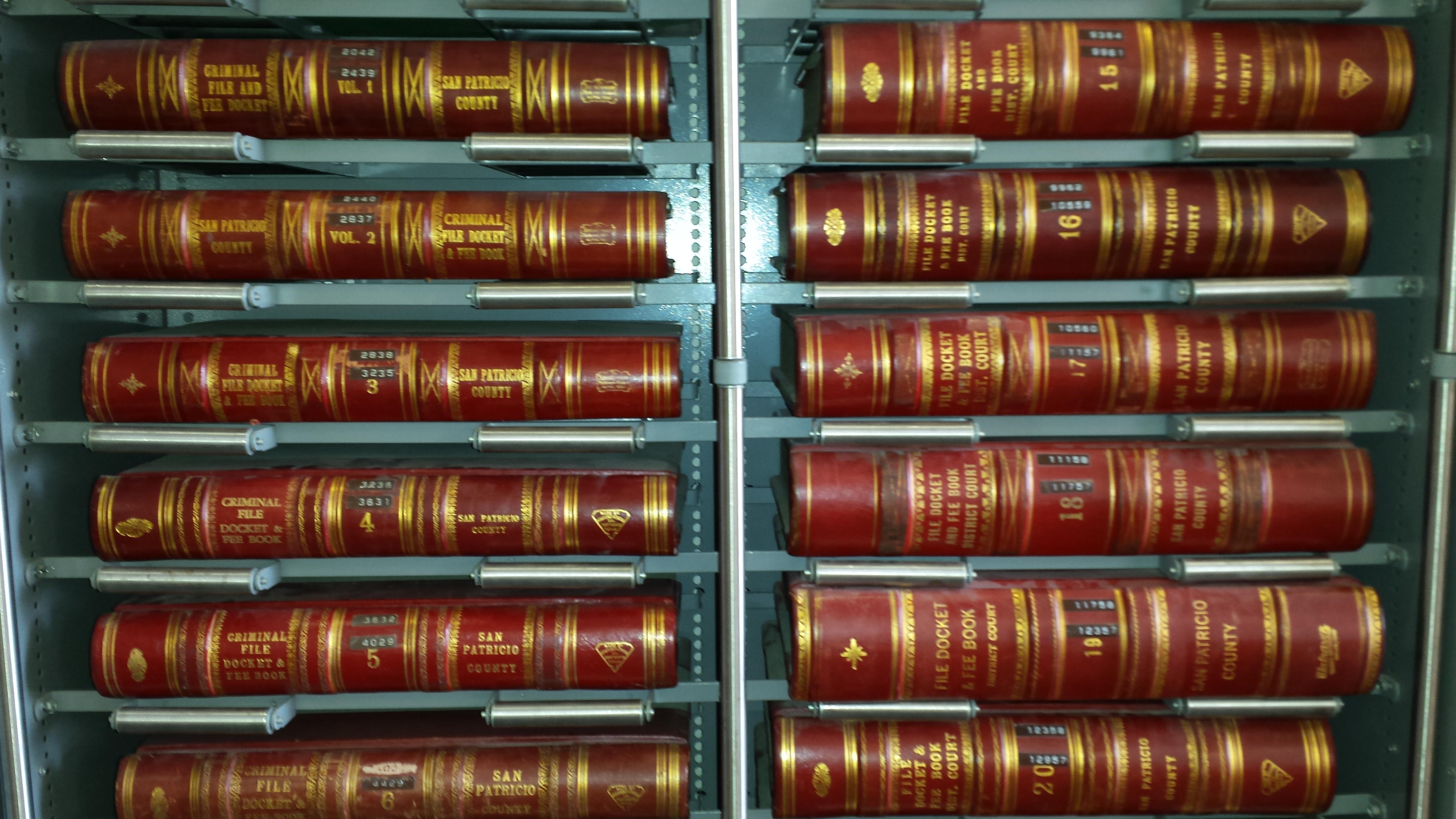 The verdict: guilty. The sentence: life without parole. Finally, justice was served in the State of Texas v. David M. Strickland.
Now, all I want is to write about the trial itself. But to update supporters who've been following this story, I will try to describe my experience of covering it. My job was to observe as an independent writer at work on a nonfiction book with and for Kristene Chapa, the sole survivor of the 2012 rape and double shooting that killed Kristene's girlfriend, Mollie Olgin. I aimed to be as inconspicuous as possible while taking notes all day in the courtroom, to conduct research and interviews outside court, to spend time with Kristene and her family, and hopefully Mollie's father and older sister. On Monday, September 12, jury selection began at the San Patricio County Courthouse in Sinton, Texas. On Thursday, September 15, near 5:30 p.m., I was waiting to reenter the courtroom for the final jury selection when lead defense attorney John Gilmore—of David Stickland's team of attorneys—served me with a subpoena to testify as a witness for the defense and turn over all research notes and correspondence with Kristene and the local police department.
I felt terrified. And angry. Cascades of stress hormones began to rush down my arms and legs like quick poison. Putting me on the witness list meant the defense could keep me out of the courtroom throughout the trial. Most frightening: they could try to use me, somehow, to hurt the case I'd followed for four years and devoted significant time, energy, and resources to researching for over two years. Anyone who knows me knows the depth of my commitment to give Kristene a voice—and to write the larger story of this tragedy on behalf of Mollie, both victims' families, and women, girls, and LGBT people everywhere. Of course, as Kristene's coauthor, I am biased—but I intend this book to be fair, even to the defendant, David, and his family.
At first, I refused to sign the subpoena but knew I had to, and wanted to reenter the courtroom for the final jury selection. Of the twelve jurors and two alternates chosen, the majority were white males. The prosecution and defense attorneys chose only three women, of which just one—Juror #1—is Hispanic. As the new jury exited the courtroom, Strickland—wearing a light gray suit, pale lavender tie, and flashing cufflinks—beamed as he attempted to make eye contact with each juror.
It's tough to find an attorney on a Friday much less over the weekend in a place you don't live when you can't afford to pay for representation. Surely, the defense counted on that. My website features a prominent link to my CrowdRise fundraiser for this trip, showing precisely how financially vulnerable I was in making the trip. But months earlier, I'd proactively contacted an LGBT attorney in Corpus Christi and she'd offered both families and me pro bono consultation if we had questions or concerns. Subpoena in hand, I gave her a call.
On a Facebook page for Texas lawyers, she posted a request for representation of an anonymous journalist who'd been subpoenaed. Attorney James C. Mosser responded and I called him immediately, but got the wrong extension. He did not receive my message. However, one of Strickland's attorneys saw the post and sent an intimidating message in reply.
I drove the three-hour trip back to Houston and spent the weekend at a friend's home, trying to find an attorney while steady doses of fear and dread swam through me. Not wanting to worry family and friends, I told very few people. Finally, in desperation after three days of searching, I tried attorney Jim Mosser once more on Sunday afternoon. He answered the phone.
Mosser prides himself on his "'Renaissance Man' approach to life." After serving as a navy pilot in Vietnam, Mosser enjoyed several diverse careers in business long before owning his own law firm. Now, he charges $500 an hour. Another problem: he's in Plano, near Dallas, an over six-hour drive from Sinton, Texas. And early on, he'd said in a thick Texan accent that he'd worked pro bono for eight years on a particular case and couldn't take another. But he also said he was intrigued by this case and my situation. He offered to send me a bill when it was all over, and I could decide what to do with it! Incredulous, I accepted.
During my afternoon drive back to San Patricio County, while Mosser prepared to file a motion to quash the subpoena, I received a message from someone on Facebook saying he is a friend of David's. In the tone of a whistleblower, he noted the murder (about two weeks prior) of a defense witnesses' husband—the gun shop owner who sold David Strickland a suppressor for his Glock .45, and whom David considered a "mentor." Whatever his intention might have been, David's friend came across as somewhat menacing.
"Have no fear," Mosser said, and would keep saying. He also advised me to wait in my hotel room and not go to the courtroom on Monday morning. He didn't think they would arrest me.
On Monday morning, I did as my attorney had advised. I waited in my hotel room for Judge Philip Kazen to make a decision on Jim's motion to withdraw my subpoena. However, I felt anxious having my fate—and of much greater concern, the case—dependent on this particular judge. News media reporting on this crime and trial has never mentioned Kazen's record. In 1997, Kazen served as prosecutor for the state's case against Elizabeth Ramirez, the supposed ringleader of "the San Antonio Four"—four Hispanic lesbians wrongfully convicted of sexually assaulting Ramirez's two young nieces. The case is widely considered a latter chapter of the satanic ritual-abuse panic of the 1980s and '90s. As prosecutor, Kazen argued that Ramirez's sexual orientation was only notable in that it was "generally consistent with" sexually abusing children.
Yet, I'd thought him rational, fair, and no-nonsense during jury selection the week before. I found it hard to imagine the judge I'd observed in the courtroom as being the prosecutor who used homophobia combined with junk science to win his case. Sentenced to 37 years in prison, Elizabeth served 15 years before being released on bond in 2013. The other three women also spent many years of their lives in prison. Several years ago, one niece, now an adult, told authorities, "It didn't happen." The niece admitted she'd been coached by family members who were angry because of her aunt's sexual orientation, including her father, who'd made sexual advances that Ramirez had rejected. A documentary titled Southwest of Salem: The Story of the San Antonio Four premiered at the Tribeca Film Festival in 2015. In February 2016, Judge Pat Priest ruled that all four women are entitled to new trials to clear their names, but Judge Priest stopped short of exoneration. I thought a lot about the San Antonio Four while waiting for Judge Kazen's decision.
My attorney called to say Kazen had ignored the motion but released me from "the rule"—which usually prevents witnesses from observing a trial. The judge would allow me back into the courtroom. However, the defense could still call me as a witness at any time, even out of order, and the judge could always do whatever he wanted. Jim instructed me in exactly what to say if called to the stand: "Your honor, I object. My attorney has filed a motion to withdraw the defense's subpoena and I invoke journalist's privilege. I would like to speak with my attorney." Meanwhile, I was in legal limbo, as I couldn't leave the jurisdiction—something I was prepared to do, if allowed, in order to protect the case.
My first priority was the case—not the book. But Jim advised me to go do my job despite the risk. I didn't know what the defense was after, and realized they might not know either. It could be a fishing expedition. I felt my research and relationship with Kristene was in real danger of being used to complicate or somehow hurt the state's case. I decided to wait for Judge Kazen's decision. Unfortunately, I waited all day but the judge ignored the motion.
Missing the first day of the trial—what felt then like the most important day for the book—left me devastated. I wept for the first time in a very long time. Late afternoon, I visited with Kristene and her family and heard her parents' takes on the day while watching the local news coverage of the trial. Later, I met with Erin Handy, apparently the only member of the local LGBT community who attended the entire trial, and who did so as a "concerned citizen." We'd only met in person twice, but at my request, she spent the entire day filling a notebook with details on courtroom dynamics and emotion in peoples' faces and bodies—expression and gestures that will be missing in transcripts. It would take us three meetings over three days to cover Monday.
"Go to court today and do your job. No fear!" Mosser said Tuesday morning. The pending subpoena meant I couldn't leave the area, but it also meant that if Judge Kazen wanted me to testify, he would need to hold a hearing with my attorney present, and that Mosser would likely be given time to fly in from Plano. Based on the judge's impressive, even moving, performance during jury selection, I believed he might be reasonable. My only other option was to stay in the county yet not attend the trial.
I returned to the courthouse. Mosser emailed, "The only thing necessary for the triumph of evil is for good men to do nothing. ―Edmund Burke (in a letter addressed to Thomas Mercer)."
Sitting in the courtroom for the next week and a half meant writing in notebooks hour upon hour while pens emptied and my right hand ached. At times, the sound of my name spoken aloud jarred me from frantic note taking. There were references to "the writer" and "the author." Defense attorneys loudly whispered the word "subpoena." Throughout the trial, I never knew if I might be called to the stand.
Furthermore, last winter, one of the investigators had lost his job over emails he sent—to me. I knew I'd done nothing wrong. But I'd not been able to protect a source. That fact hit me hard. During the officer's cross-examination, he was made to read several of those emails from the stand, including a brief note from me. The text was projected onto a large, white screen at the far end of the jury. My hand stopped writing. All I could do was stare at the screen and force myself to breathe. When the detective finished, the defense attorney picked up where he left off and read aloud my signature line with my home address half way across the country. I felt like he was saying, we know where you live.
That night, while eating Mexican food with notebooks open at a restaurant bar with Erin Handy, I looked up to see text running across the bottom of the monitor's screen—a reference to emails sent to "the author" on the local news station. I stared down at my plate. Pushed the plate away. The next morning, the Houston Chronicle referred to me by name. Inconspicuous I was not.
On Friday, while the defense cross-examined Kristene, I feared they'd try to confuse her. In certain moments, once again, I couldn't write. But I was thankful I've been so careful to ask questions but not show her my work. In an abundance of caution, I'd only let Kris read one excerpt from my work on our book—a chapter about David Strickland's wedding at the crime scene one month after the attack. It contained nothing relative to her role as a witness. Amazingly, Kristene has never been able to read the book being written about her. Understandably, this ironic legal situation has been extremely frustrating at best. Silencing at worst.
Strickland's attorneys did not succeed in tricking Kris on the stand. As she left the courtroom, she refused to walk in the direction she was told to walk: toward the defense table, toward David Strickland. Instead, she walked toward her family in the gallery, then turned and passed, limping quietly, gently, out of the room.
First, her attacker made her gag herself with black duct tape. Then, David Strickland, through his attorneys and the legal system, continued to silence Kristene, and even me, the person working to give her a voice. After the Investigation Discovery channel's Vanity Fair Confidential betrayed their promise to Kristene and her family—airing an episode about the case before the trial—the defense succeeded in delaying the trial yet again. As a result, Kris and I were told to be very selective in speaking to the media. Kristene had to stop giving interviews for a time. I was advised to withdraw my article about the crime scene wedding, even though I'd already broken the story shortly before and then again on the VFC episode.
Another sad fact is that I didn't feel free to have contact with Kristene during the trial. I'd intended to check in frequently and provide support during those challenging weeks. Kristene's older sister had even told me the family needed me there—she said my presence was "comforting" to them. But as it turned out, I had to keep my distance from Kris once I could attend the trial. Any contact with a witness might be questioned.
As a journalist, I found it very challenging to be referenced and/or have my name spoken in the courtroom and in the media as part of the trial. I was there to observe—to focus intently on the place, people, and proceedings around me. Meanwhile, people introduced themselves to me saying, "you're the author, aren't you?" Not knowing whether or not I'd have to testify, and how the defense might twist my words and work, I kept a distance from many of the folks with whom I wanted to speak. I gave Mollie's family, especially, plenty of space, even though I owed her father lunch. Meanwhile, police presence around Kristene's home intensified. Officers were parked near the house and/or cruised by constantly.
On Saturday, September 24, I interviewed a local LGBT activist and then went to the beach to remember what it's like to not feel fear running through my veins. After a long walk, I blasted the Rolling Stones while driving on the beach at sunset. Yes, you can drive on some beaches in Texas.
At 2:30 a.m. on Sunday morning, defense attorney Gilmore sent Mosser this email: "I hope your client knows what aggravated perjury means. I am going to put her on the stand on Monday. You may want to consult with her. This is my last courtesy to you."
Mosser filed a motion reminding the judge of the motion to withdraw my subpoena—and he attached Gilmore's email for the judge to see. Jim also reminded me of Burke's quote, which I had altered slightly and now repeated dryly like a mantra: "The only thing necessary for the triumph of evil is for good people to do nothing."
On Monday, September 26, I heard the three defense attorneys whispering my name, and fielded their quick glances and occasional sustained stares, including one from David Strickland, who locked eyes with me for several seconds. At one point, in a quiet conference with the defense, Judge Kazen sounded amused as he quoted Gilmore's email to Mosser: "Aggravated perjury? Aggravated?"
Thanks to Jim Mosser, my guardian angel in the guise of a formidable lawyer, David Strickland's team of attorneys never called me to testify.
On Wednesday, September 28, the jury found Strickland guilty. He was sentenced to life in prison without parole.
Since returning from a month in Texas, it took several weeks to reboot my tiny business. When I'd flown south, I hadn't known how long the trial would last, how long I'd be gone. Therefore, I had nothing concrete to offer my workshop participants and clients. I returned to bills, but what a relief it is to organize writing workshops without having to schedule around a murder trial. And how exquisite the simple pleasures of making a soup in my own home and writing at my desk with the nightmare of the trial over.
However, just hours after the verdict, a local paper gave defense attorney Gilmore the last words: "I'm glad they feel closure but there's a guy walking around out there who actually did this and I just hope nobody else goes through this," Gilmore said. The assailant's attorney could have promised an appeal and claimed his client innocent without choosing intimidating words for a community that's been deeply, personally, affected by this tragedy. Numerous women and LGBT folks in that community tell me they've felt terrified by this crime since the first time they heard the news in June of 2012.
Women and LGBT folks know that "nobody else" refers to them, and "goes through this" refers to rape and murder. They say it could have been their own daughter, sister, gay brother or son. They say it could have been them.