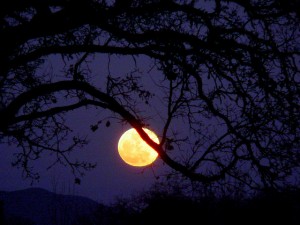 9:41 and my wife's already falling asleep? Even my sixteen-year-old has turned out the light and I must tiptoe in the dark across her booby trap-filled-floor to slide her glowing, white laptop under her bed so neither she nor I step on it. I give her hair a solid kiss and exit as she tosses once with subconscious disapproval. It's tough to be loved. I don't care, she needs to know that her rare-these-days passive aggressive silence and ungrateful face coupled with no help setting the table and no thanks for a roast chicken stuffed with garlic, onions and rosemary is hardly acceptable but I still won't extend the issue beyond its moment. No, I haven't agreed to homeschooling so she thinks this is just punishment? Still, I won't let the sun set (a helpful cliché to remember if you don't want to damage your closest relationships) on our tensions without reconnection, whether she likes it or not and whether the sun has already set or not.
It's 10:01. Do you know where your wild self is?
Mine is right here—I can feel the longing to write into the night, take a long walk by moonlight, sit on the front steps and savor a glass of red wine in the dark, read for hours by the woodstove, drive to the city and go dancing at my favorite gay bar… Okay, that list may seem mild by most standards, but when you're faced with getting to sleep by 10:00 p.m. to be up at 6:00 a.m. and get your teenager fed and out the door for the damn school bus on time—it's suddenly very wild indeed!
An at-home mom working on material for a second and third book at the same time while building a small business from the ground up, I can sometimes feel the schedule of our lives tightening around my days, constricting my work, while I prioritize family life without hesitation because this is truly what it's all about: my gorgeous and skillful wife chopping wood, singing jazz standards, digging post holes and sketching edible landscapes; my brilliant and lovely teenage daughter discussing politics and ceramics and playing the guitar; the two of them planting garlic in the garden or working on a song together…
The yards have never seemed more beautiful in the sudden decay of early autumn. Straw covers the beds. The red maple left a circle of fire around a black iron chair.
It doesn't get any better than this. Okay, sweet life, now this lament must end. I'll make my way to bed, trying not to step so the floor boards creak. My crazy early birds sleep deep. Somehow I'll let this all go, knowing we'll start the cycle of another day before the sun even rises. It'll be dark when I wake, dark like it's time to catch a plane.