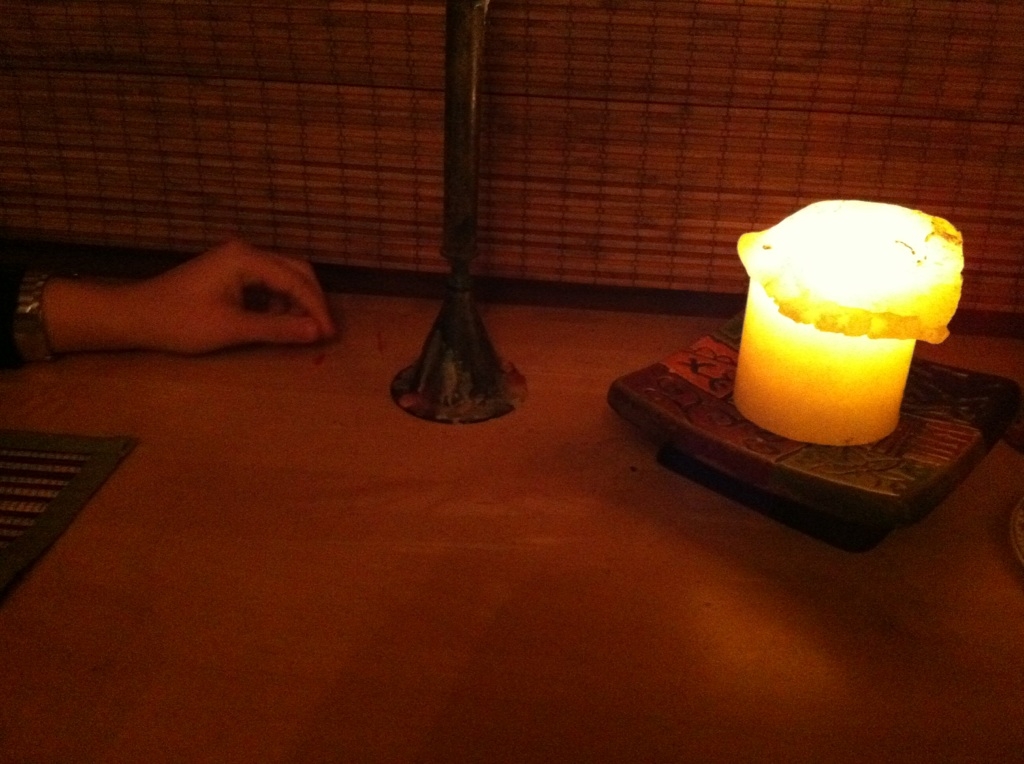 "I don't know how pop music got so bad today," my sixteen-year-old daughter, Sophie, says while staring at a tiny piece of wax that has somehow dripped from the scarlet candlestick closest to her bowl. She begins to work the speck of wax. "I mean, what they play on the radio is crap. I mean, most of what they play. Except Amy Winehouse, Adele… (long silence). That's all I can think of. You guys grew up listening to Led Zeppelin, Beetles, Eagles, right? You listened to the Eagles?"
I nod.
"The Police, The Cure, Dire Strats…"
"Straits," I say.
"I always miss that," she says, staring at another candle's flame.
"Who else?" I ask.   
"Jimi, Janice Joplin, the Rolling Stones."
"What's the difference?" I ask.
"It's all sex, partying, drugs."
We laugh.
"Okay, so it used to be sex, drugs and rock and roll. Now it's just grosser and kinkier."
"More soulless," my wife, Viv, notes.
"Yeah," Sophie and I say.  
"Even the sappy songs were good," I add. "They might actually force a tear into a duct. At least once. Like 'My Eyes Adored You.' Talk about sappy. And so damn innocent…"  
"Sappy is better than Justin Bieber," Sophie says as I start to reminisce about dancing to my first album—Crosby, Stills and Nash on a dilapidated front porch couch—in my bedroom as a child or extending my bare legs as I stuck crossed feet out of the passenger's window in the front seat without a seatbelt as my mother drove us—all windows down—along Galveston's old Seawall Boulevard on a hot, bright, blue sky day with the breeze in my hair and wearing only a bikini top and shorts cause we were headed for the beach and the music and salt air hit me all at once and it was a moment, beautiful and real—my inner life grew from moments like this when it didn't matter what was happening around me or how chaotic life already seemed: I had music and the ocean to breathe in…
The dinner discussion continues to weave our thoughts against and around each other until I try to take a few photos and end up killing the moment. Sophie allows me to document her handmade miniature wax stalagmites (still in residence on the dinner table) and I've gotten permission to write in the "mom blogger" genre about our lives but not (yet) photograph the cast. I begin to explain that plenty of mom bloggers have families that pose for them.
"Pose?" Sophie says, incredulous. "How old are they?"
Before I can answer (teens!) she says, "They're probably attention starved because their mommy blogger is always typing away on the computer." I smile. This is the same kid who's begging me to homeschool—tomorrow—and I took the day off so she could visit an educational cooperative.
But she's always ten steps ahead.