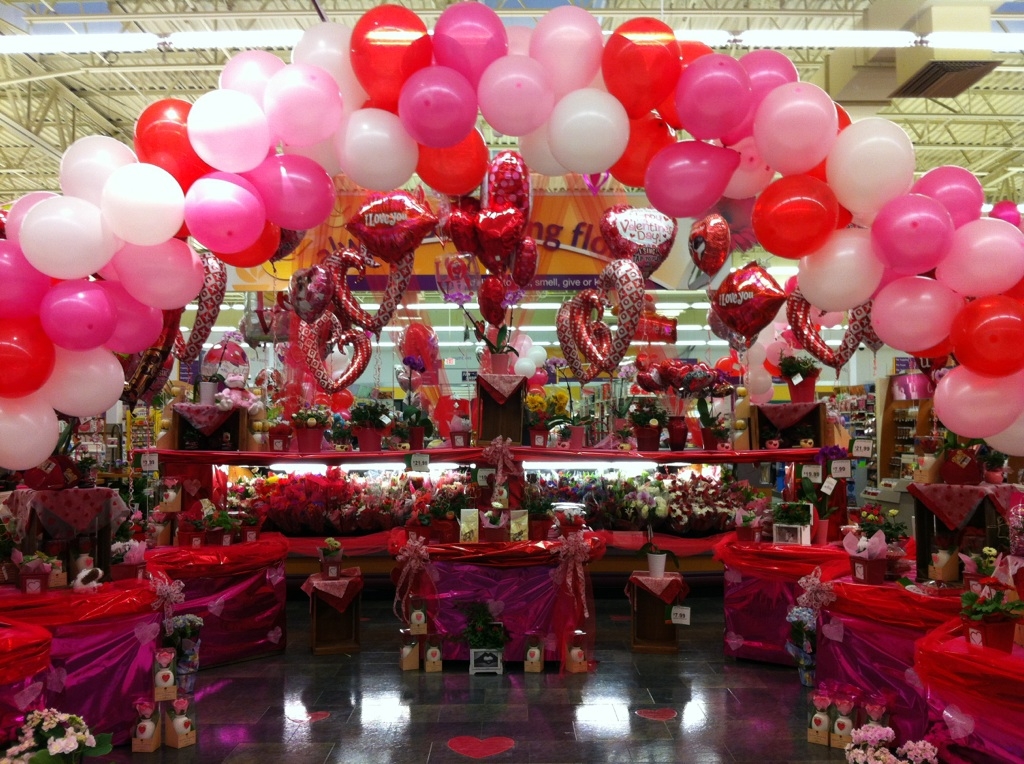 Pushing a metal cart through automatic doors, I enter the local grocery store resigned to my errand, list in hand, immediately turning toward the natural fool's…I mean food's section. Feeling half like an unsuspecting shopper on Candid Camera and half like a Disney princess discovering a magical dimension open into her ordinary life, I'm suddenly wheeling my cart (or it wheels me) toward an elaborate Valentine's Day display like I've never in my life seen. Anywhere. Grocery shopping isn't what it used to be. Store, shrine or Théâtre D'Amour?
Beneath a wide arch of red, white, rose and pale pink balloons, there's a second stratosphere of metallic red and silver hearts and lipstick-red lips floating above my head. In front of me there's a wall of shelves and pedestals displaying vases of long-stemmed roses, flowering bulbs, potted miniature roses and boxes of chocolates. At an angle on both sides, several tables dressed with shiny purple skirts and ruby-red plastic sashes punctuated with fat white bows trailing ribbons like prom corsages display more pedestals, vases, potted flowers and chocolates. At their hems, small packaged gifts like offerings wait to be picked up and pleaded for by children not seated in carts. Directly in front of me, the center display table—like an alter to Cupid—calls me. I float toward its dark chocolates.   
My spouse—who might appreciate the display if it featured boxes of washers, bins of lag bolts, cordless drills and Ham radios—isn't here to protect me from my own curiosity and romanticism. And while I'm not ordinarily wowed by any sort of holiday commercialism, I've been known to buy a rosemary "holiday tree" which promptly died before the solstice even arrived.
This extravaganza on behalf of love literally pulls me into its orbit. I'm reminded of the scene in Elf when the Gimbel's department store manager (played by actor Faizon Love; yes, that's his name) discovers Buddy's astonishing Christmas display and totally freaks. Assuming "professionals" have been sent in and his job's at stake, Love says, "Code word is 'Santa's got a brand new bag.'" As I stand within this Valentine's spectacle more Tunnel of Love than supermarket, I think to myself, Cupid's got a brand new arrow!  
Clearly, I've been transported to a game show stage a` la The Dating Game or The Newlywed Game. But where are the cameras and the studio audience? Perhaps there's about to be a give-away: a Valentine's Cruise on The Love Boat? Or a high school Valentine's dance—right here—sponsored by the grocery store? Anything could happen. The set is ready. When does the spectacle, service, or Scene I begin?
But the Cathedral of St. Valentine is empty except for me. A few shoppers stroll by in a daze and keep going. I abandon my cart and follow the Stations of Cupid's Arrow, table to table, admiring the cut-out hearts pinning the tables skirts, the colored tissue paper and doilies, the symmetry and slight variations… What most surprises me is the sense I get that only I can see this fantasia—no one else wanders into it and it's either just finished or doesn't really exist because no one's bought a thing. Nothing's missing from the symmetrical patterns of gifts. It's perfect! It's ready for a shopping spree—or wedding!
Okay, so perhaps others can see it too—a woman strolls her cart along one edge as if lost and looking for a sign. I'm embarrassed, as if the incredulous look on my face might make it easy to read my mind, so I nonchalantly mosey back to my cart and push it over to a display of cards bordering the enchanted Valentine's rainbow of this magical waiting stage.
Happily married, or should I say Sappily Married, as in each-and-every-day-I'm-more-grateful-to-share-our-lives Married (yes, you can now throw up), I decide to browse through the cards. One side of the display is filled with cards "For My Wife" and the other side "For My Husband." Sincerely at a loss, I stare at my options. 
As usual with greeting cards, I'm not sure how to translate my marriage for the heterosexual majority. Since I certainly refer to my wife as "my wife," I start browsing there. "A KISS is just a KISS, a SIGH is just a SIGH…" [open card] "but a good loud SNORE means we're HAPPILY MARRIED!" The illustrated couple are both puppies who have fallen asleep on the couch. Husband puppy has dropped the remote. I close the card. Neither my wife or I believe that snoring spells marital happiness, nor do we watch TV. I return the card as a woman gravitates to the opposite side of the display. The next card I open repeats the same theme but the couple is upside down on the couch watching TV as a "new position" for Valentine's Day.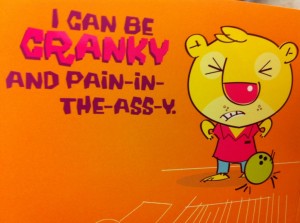 "Let's get NAKED and watch a BASEBALL GAME! [open card] Hey! There's no baseball in February! And there we are, naked with nothing to do… hmmm…" Neither of us watches baseball on TV, since, once again, we don't watch TV. Next!
A husband narrator swears it's not the beer talking [open card] but a mug of beer begins talking—though rather inebriated—then belches quite loudly. Several nearby shoppers in the fruit section, plus the woman who's also browsing for a card, glance at me.   
"Sometimes I'm absentminded, sometimes I'm kind of cross" (a husband bird curses at a lawnmower while wife bird looks on) [open accordion-style card] "Sometimes I maybe act as if I think that I'm the boss…" I start to skim, noting that husband bird admits to being "kind of quiet," "just plain stubborn," "a little spoiled," "lazy, too" before being "always in LOVE with You!" Standing there, I flash on a common "argument" my spouse and I tend to have: PLEASE! It's my turn to do the dishes, honey! Can you please do something for yourself and let me get this? No, really! Then, I try to imagine either of us making light of some issue we're "working on," as if we're each secretly content with our own weaknesses and hope loving the other is enough glue for the marriage. Make fun of our own absent-mindedness or stubbornness? Sure! But gloss over moodiness or unhelpful communication patterns? Huh? Spoiled? Only in love! Lazy? I wish!     
"Of Course I love you" (says a squirrel standing on its head) [open card] "Who else would put up with all my crap? Happy Valentine's Day!"
I can't help myself: I'm reading these cards like an anthropologist in a strange land. What do contemporary greetings cards—as a form of pop culture aimed at the assumed majority—say about contemporary heterosexual marriage? You hear a lot these days about the dangers of marriages like mine, as if Viv and me might pose some sort of infectious risk to the institution of marriage. But if these cards are to be considered artifacts and evidence of the state of opposite-sex unions, straight marriage may be the greater danger. At the very least, it's showing marriage in the worst light possible! And that's not good for marriage.
 "Yours are the Lips I DREAM of." (Homer Simpson sits at a bar in a dreamy state in front of a beer) [open card] "Especially if they are attached TO A FROSTY MUG OF BEER. MMMMM. BEER KISS." The thought of needing to associate my wife's kiss with alcohol—even a fine Shirah—is disturbing at best. The expressionless woman reading on the opposite side of the display drops a card into her basket and wanders away. 
"FACE IT, you're STUCK with me for a pretty long time." I try to fathom how the actual women who'll receive this one will feel about it, and how their evenings (and marriages) will turn out.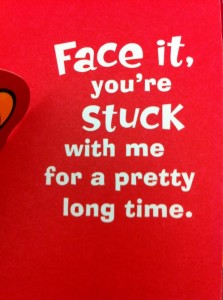 "For my Wife, You're the ONE PERSON who REALLY KNOWS the ONE, TRUE ME. (says a husband kitty cat) [open card] "WILL YOU be my VALENTINE, ANYWAY?" he asks, holding up a wrinkly, mistake-riddled cutout heart that has a strong resemblance to a poorly carved Halloween pumpkin above a large pair of scissors. And WHAT'S with the CUTE ANIMALS theme to represent adults in consensual sexual relationships? The anthropologist in me can't stop reading but the polite fellow shopper in me realizes there's a man browsing the "For My Husband" section. He might not be gay; he might be waiting for me to vacate the "For My Wife" section. Like an addict, I hurriedly read a few more cards.
"In case I haven't been showing enough signs that I LOVE YOU…" Next…
"I can be CRANKY and pain-in-the-ass-y" [unfold accordion-style] "I don't ALWAYS listen…" Next…
"Sometimes I don't know how you have the patience to put up with me…" Next…
"Valentine Edition: Things I Don't Say Often Enough" Next…
"Valentine, If loving you is a crime" [open card] "…then throw my happy ass in jail!" I flex the card back and forth to wiggle the love-struck donkey behind bars. Hmmm… I mean, WHO IS THIS card written for? For whom is it a CRIME to be in love? Perpetrators of incest and pedophilia come to mind. Ugh. Next?
Perhaps I should check out the musical cards… The man browsing "For My Husband" replaces me the instant I step away. Okay, so I still won't assume he's straight. Perhaps he's as amused and disturbed as I am while looking for a Valentine for his man?  
"ARRRR, LOTS of PEOPLE WILL SEND YE A VALENTINE…" [open] "But how many Will Send Ye a Pirate's booty? (or a bunch of pirate's booties, in fact.)" Opening the card triggers a pirate on deck of his ship to start singing a pirate-song-of-sorts while rapidly and repeatedly mooning—yes, taking his pants down to expose bare buttocks—until the image blurs in an inappropriate manner (I've deleted this description) as the pirate looks at the reader sideways and the questionable action is watched by several other pirates spying from another deck. I hope the only women who receive this card will "get" the joke and have a good laugh. Otherwise, this is the kind of card (or last straw) that wakes one up to something very wrong in the marriage. Perhaps the card should come with a warning or rating? At least keep it out of the hands of little ones growing impatient and reaching for the noisiest card of all.
Disturbed, I close it and step toward the "For My Husband" side, where, as a femme, I feel the shift of suddenly "passing" for a straight woman just in standing here, as another shopper approaches the island of misfit cards for wives.
One by one, I realize the cards from wives to husbands tend to be sweet and sincere. Two golden lab puppies in soft-focus sleep next to each other.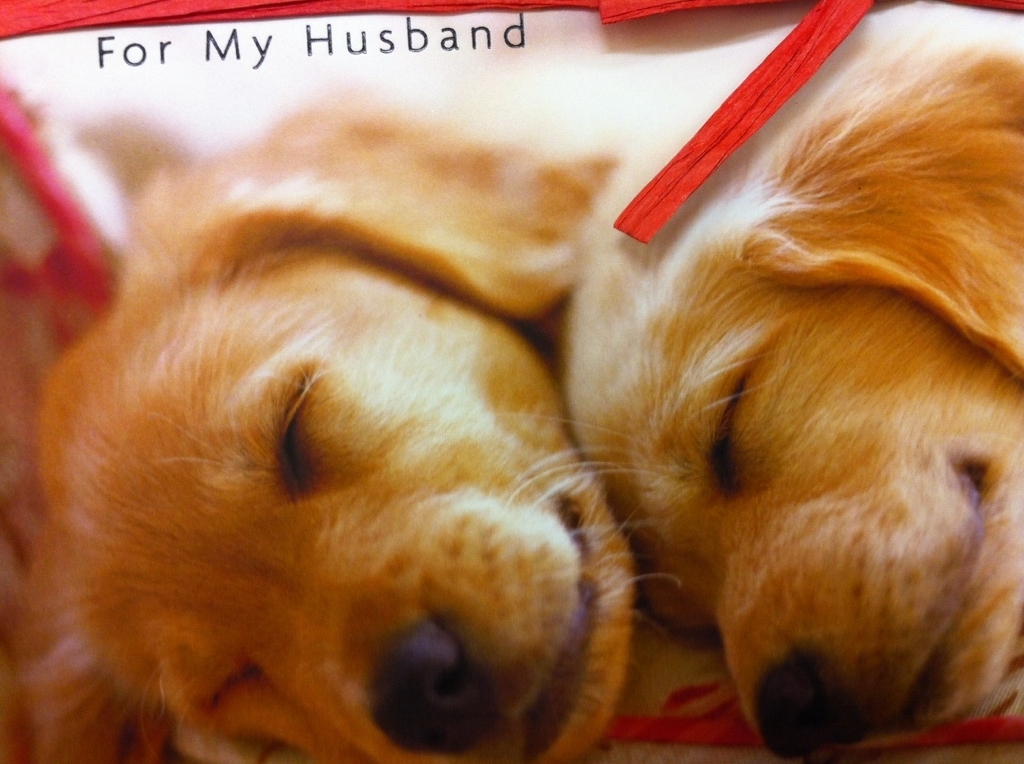 Open the card to read, "The one sure beautiful thing there is in life: love between you and me." The message is typed in a simple font and appears very small in the upper part of a blank white background. Huh… I take a photo and send it to Viv—she's a dog-lover—to suggest where I am and what I'm doing. Within the context of generally knowing each other's schedule, we often send pics as a sort of short hand. She writes back, "Awww…" and asks if I can pick up tortillas.
"You're the HUSBAND, I'm the WIFE, and we share an AWESOME life… [open card] "I am YOURS, you are MINE, We're FOREVER Valentine's" and two kissing puppies pop up within the frame of a heart while their tails wag on both ends.
I keep reading but there are few exceptions to this rule that cards for husbands are loving if tame. The only "bad girl" cards say things like I love you more than chocolate and that's a lot. In fact, the "For My Husband" cards are so boring and repetitive that I return to the other side once the gentleman finally selects a card and quickly exits as if guilty. The anthropologist in me grabs one more—just one more. This is it. This is the last one.
"Me bad at words, but me sometimes get lucky and string few good ones together…" [open card]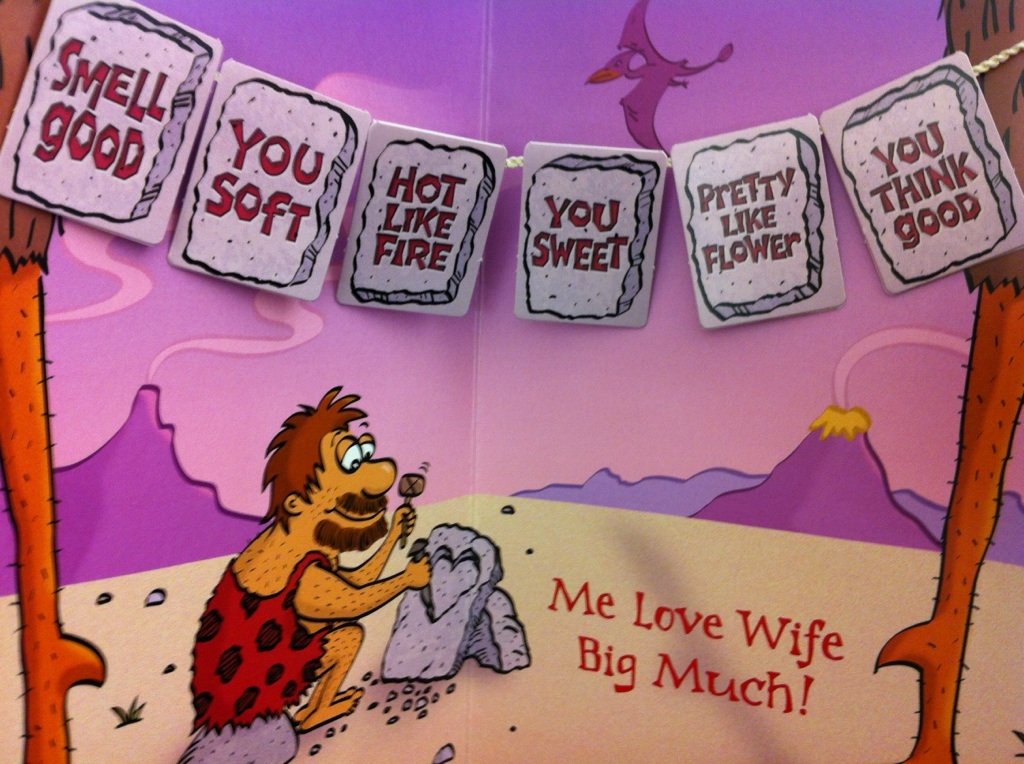 The problem with the straight marriage "lens" is that it too-often suggests all marriages end up simply pathetic or downright dysfunctional if they're not already. Google Stephen Sondheim's "Sorry-Grateful" lyrics for a heartbreaking but clear portrait of the harmful "het" anti-marriage mentality that permeates our culture.  Heterosexual love isn't what it used to be—or is it? Then again, I know some happily, even sappily married straight couples out there…
Cardless, I head for the mangoes. My wife texts, "When will my valentine be home? I miss her!"
(Display Design by Helena Omilanowska for Stop & Shop)