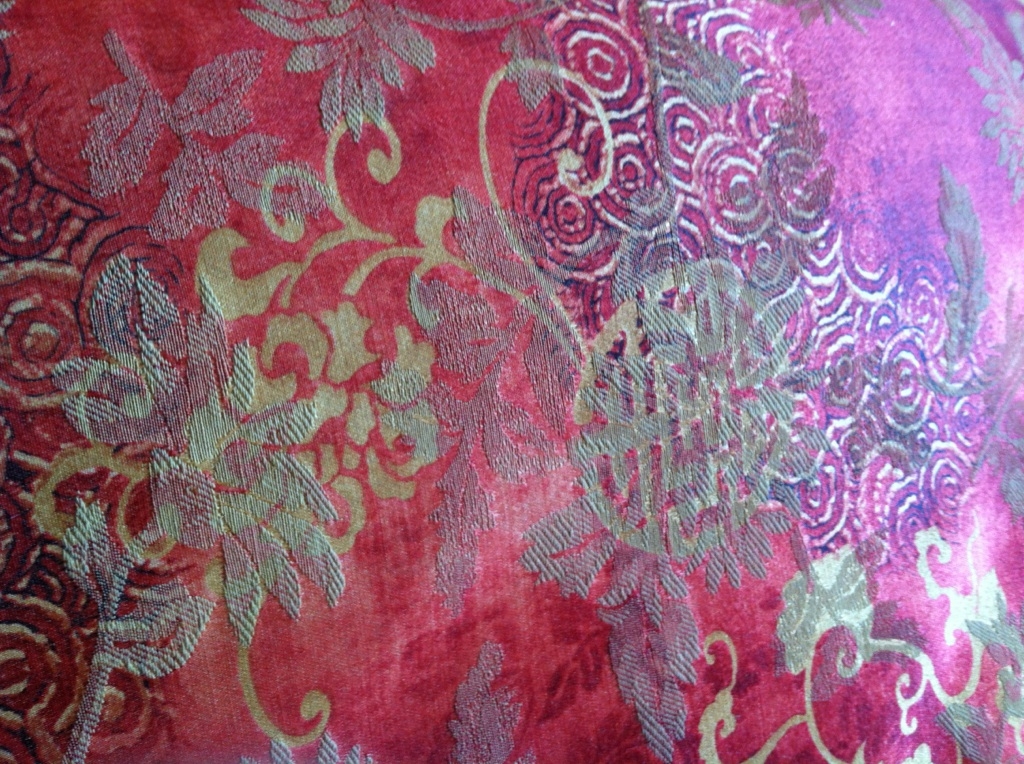 I found it while reading. Laying on my side on the couch, I was reading Cheryl Strayed's essay in The Sun about her profound, devastating and extensive mourning after her mother's death from cancer, which she novelized before writing a memoir about what made the novel—and healing her life—possible. Her mother learned she had cancer and died seven weeks later. Vaguely uncomfortable even in a relaxed position on my left side, I could not stop reading and at one point tears began streaming down my face accompanied by a sudden ache in my throat—often signals my body gives when I don't just read but feel strong writing, work that unlocks and opens a door I've forgotten, or have never been able to open, or just found.
Laughing at myself for crying, I adjusted the pillow and realized something hurt. Actually, it'd been hurting. Annoyed with my body for trying to talk to me while I'm reading (and this is a dancer speaking?), I quickly reached to touch and identify the trouble, whatever it was. An off-center bra? The usual premenstrual tenderness?  A bruise? It must be a bruise—felt like a bruise. Or an infection brewing.
My right hand darted into my shirt and instantly touched my left breast exactly where I felt hot, blinking pain beneath an expected bruise. Instead, I felt a knot. A painful knot. I lifted my t-shirt. My wife glanced over from her perch at the kitchen table across the room.
"I found a lump," I said. Viv didn't walk across the room—she materialized in front of me.
Again,  I touched the hard, wide knot taking over a quadrant of my breast. Like many women, I've always noticed nodularity while doing quick self-exams and thought I knew what normal was for me. This wasn't it.
This was different. Nodularity that's always been in the two o'clock quadrant now extended from twelve to three o'clock and seemed at least the size of a fat, red grape—and now even seemed to extend beneath the nipple. In my desire to not overstate, I may understate. In my desire to be real, I have to tell you I'm uncomfortable typing the word "nipple" into an essay that's partly clinical and about myself rather than a poem about breastfeeding or about a painting or piercing. Words like "lump" and "nodularity" and "'self-exam" are even more boring and undesirable to this writer—but these are the words women everywhere must shape with their mouths into air or with their hands onto the page, so I use them.
Standing there with Viv, I tried to determine whether the lump is fixed (not good) or moveable (good). It seemed both. Touching the fresh, tender bruise of this knot made me slightly nauseous. I'd never heard of normal nodularity being this painful. My wife and I stared at each other for a brief moment—she'd just been through a cancer scare. I assured her I'd immediately get to a doctor. It was time for bed. As we went through the motions of what we laughingly refer to as our "beauty routines" (like brushing teeth), I forced myself to stay calm and focused. We needed our sleep. Why couldn't I have found this lump in the morning? Adrenaline was already rushing through my veins like a bad drug I couldn't stop.
I kissed Viv goodnight and retreated back to the woodstove—the spiritual center of our little home—working a few deep breaths while wondering if it's possible to fake deep breathing. If so, that's what I did. Sitting on our futon couch, I studied the fabric's elaborately layered, Asian-inspired floral, spiral and mandala patterns in saffron, persimmon, tawny and gold. The couch expanded until it seemed the size of a field and there was no way out.
The joy and gratitude I usually feel in my current day-to-day life felt far away, as if I'd woken from a dream and was suddenly on the other side of that life. As if each person, each thing I saw, each moment was slipping away.
This sort of panic wasn't "me." I'm not a hypochondriac. As a young woman and again only a few years ago, I'd been quite practical in facing two rather serious health issues. In fact, I've tended to minimize the seriousness of these problems—to the point of declining surgery after warnings of infertility (didn't happen) and waiting to deal with skin cancer on my face that turned out to be a small tumor (no scar). This time, I was over one year late in getting myself to a new doctor after relocating, although I'd made sure to prioritize my daughter's healthcare. And this time, though I knew I'm not in the high risk category for breast cancer, something in me was deeply afraid this is it. I might have to face cancer. Surgery. Or worse. My luck may have run out. The fear was so inexplicable and deep. It felt more like finally facing the truth of biological odds.   
Ironically, a few days earlier I'd browsed a Bounce catalogue and gotten lost in the athletic and humorous textual world of all-things-breast while realizing my bra collection was part of the problem. I tried on and tossed at least five bras in a partly subconscious attempt to rid myself of chest pain. I'd even gone to Victoria's Secret and purchased two replacements. Then there was that amazing essay about a mother's cancer mixed with my own blinking pain. All roads led back to my breast and every other woman who's found a knot near her core.
That was the thing. The knot guards my heart.
What had happened in the past two years since I last saw a doctor? Since my last mammogram? Why did I need a knot to guard my heart? Of course, I have a strong sense. But that's another narrative.     
Suddenly, my life resembled one of my old writing prompts inspired by poet Mary Oliver. You've been given one year. What would you do with your one wild and precious year?
What if we could live each and every year so alive? Theoretically, those sorts of questions inspire me. In practice, well, I had no real practice. This was one of the few times in my life that I felt my mortality so precisely.
Terror is not the stuff of movies or books. It is silence you can only fill with hot tears in the middle of the night as you sit alone. And then, it is brushing your teeth and brushing your hair as you face the mirror knowing a knot in your flesh could spell your end when you've just begun!   
A happy new marriage… A daughter who's healing… My family and friends… A book out the door; hoping against the odds for that letter… One, actually two books in the making… Others abandoned or half begun… The women who write with me week to week… The house! The gardens… The woods and creek. The village I now call home…
How could I wrap up my life so as to not burden my wife? What would become of my daughter if she lost her mother and primary caretaker so young? What if I don't have time to publish even one of my many books? What if I don't have time to say goodbye? To reconnect? To say, "I'm sorry…" Seven weeks or seven months… What have I done with my one wild and precious life?
I backed away from that precipice. I texted my night owl of a mother to tell her I love her. Regardless of our relationship difficulties through the years, we are perhaps closer than ever and grateful for what we have. After losing numerous loved ones, I know what it's like to want to pick up the phone, dial an old number I still know by heart and hear that one-and-only voice on the other end. Sure, Mom and I still drive each other absolutely nuts once in a while but brief, out-of-the-blue love texts between us are not uncommon these days. We know what's invaluable between us.
And still, she texted back, "What's wrong?" My sister and I swear she's psychic.
I couldn't bear to worry her before I knew more, or make it more real by revealing it to a second person, so I quickly told her I'd read a devastating essay (I didn't tell her the mother died of cancer). Damn literature. I sensed she really didn't buy it, but knew I needed to tell her without telling her. 
The next day, I drove to my writing workshop but didn't speak of the worrisome discovery to anyone, as I still couldn't bear to say it out loud and place that weight on anyone. Or was I most afraid of feeling the full weight of my words? I couldn't even write about it.
On the way home, I decided to call my mother and tell her. It was a gamble—given our history—but I decided to take the risk. My mother listened. She was calm and caring and wonderful in exactly the way I needed at that moment. I let myself weep while telling her just how afraid I felt. I hadn't let myself do this with my wife; we're both so afraid to lose each other after having finally found each other.
After we hung up, I drove through the woods feeling stronger, still not knowing why this scare was so much scarier than the others, but somehow less afraid. The road pulled me home. The river wound me through my town and toward our house.  
I arrived home to my wife and daughter with good humor and perspective, knowing within that I could and would fight to whatever degree in order to stay here with them. I'm in it for the long run. I want another 47 years. The next day, I was even able to tell my daughter—from a place of strength—since I'd rather her know I'm concerned about a lump than think I'd intentionally been distant or cold to her. Clearly, I hadn't been myself in the past week and perhaps I'd worked too hard to avoid losing it in front of her. I was a woman looking back at her life while living it. Better to have a mom who might be ill than one who's cold.
There were the tedious details of finding a female doctor and trying to get an appointment when one has state health insurance. After the exam, it was hard to tell what my new doctor really thought, but I can tell you that I was grateful when she calmly stated what I already knew and scheduled a mammogram and ultrasound for the following morning.
And I can tell you that I fell in love with my lab technicians. And I can tell you that Fibrocystic Breast Condition sounded like the three most beautiful words in the English language. No longer considered a disease, it's finally acknowledged as a common condition although it can be painful, as in my case. While I've know about it for decades, I didn't know it was intensifying in my own body. Before driving away from the medical center, I texted my wife, daughter, mother and sister from the parking lot to share my two new favorite words: No Cancer. Feeling my new old joy and gratitude rather than driving into mortality, I headed directly to the Whole Foods Market and invested in supplements that can make a difference. I marveled at the handsome faces of parents and babies and business people and Rastas and students and grandparents finding their way amongst what seemed like aisles of endless cornucopias. Then, I felt just like George Bailey as I drove into traffic—ah, traffic! I love you!
I don't want to relive or forget the lens I was gifted for that brief time: the perspective of one who may be forced to soon say goodbye while quietly loving and/or laughing at every last minute. I found my life on the other side of it—the side that could at any moment be no longer mine. For now, it is! Sweet, gray, rainy winter day!