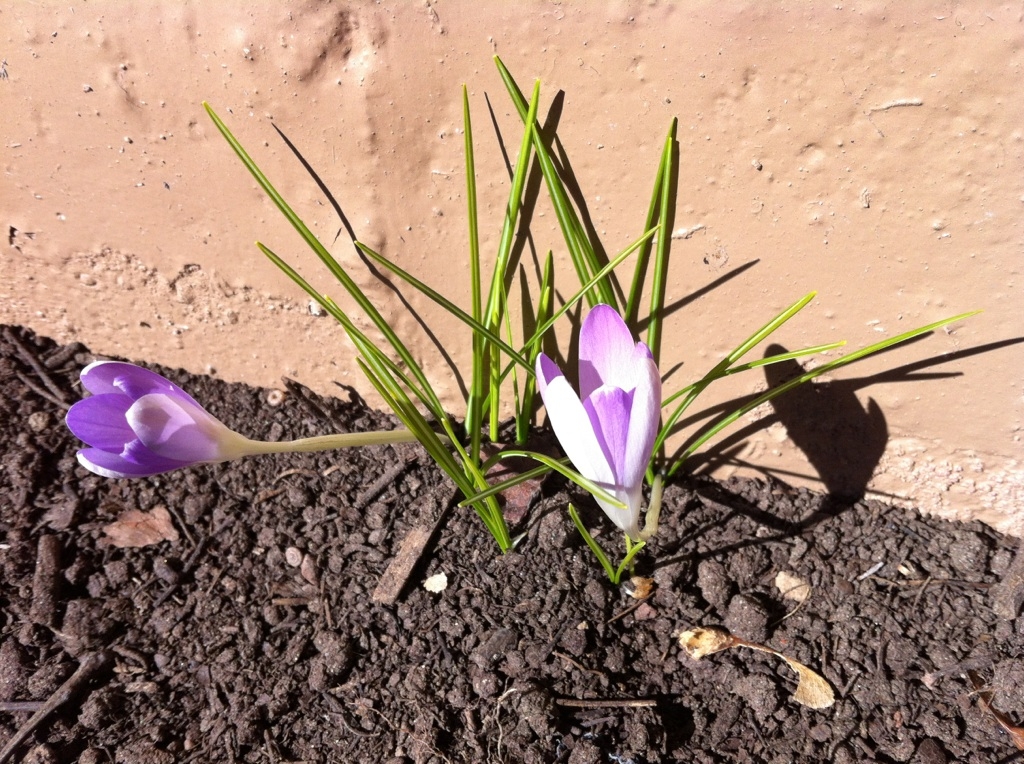 The miniature lavender flags of our first crocuses popped up as a complete surprise almost one month early in a strangely snowless New England. March in Connecticut usually offers a stark, white landscape, bitter cold, and if you're lucky, a few warmer days near its end to perhaps begin melting some of the surprisingly still-deep snow. But there they were—impossible first signs of spring in our snowless, blank-slate garden beds.
If you're wondering about the shade of puce around the base of our home's exterior walls, we are too. Our answer to such questions is always: Go Ask Joe. Of course, asking Joe might prove difficult, as he's deceased. The former owner of our house built this little yellow Ranch next to his in-laws, spent his entire adult life here, and appears to have been loved and respected by all. However, people still smile when they comment about his notorious bargain-basement sense of style. The tile we removed from both bathrooms was probably outdated and on sale when he purchased it in the 50s. I'll discuss the kitchen door's curtains we've yet to discard in another post, once we've established a little trust between us, dear reader.
Overnight, or so it felt, the same garden bed birthed a first tulip of the season: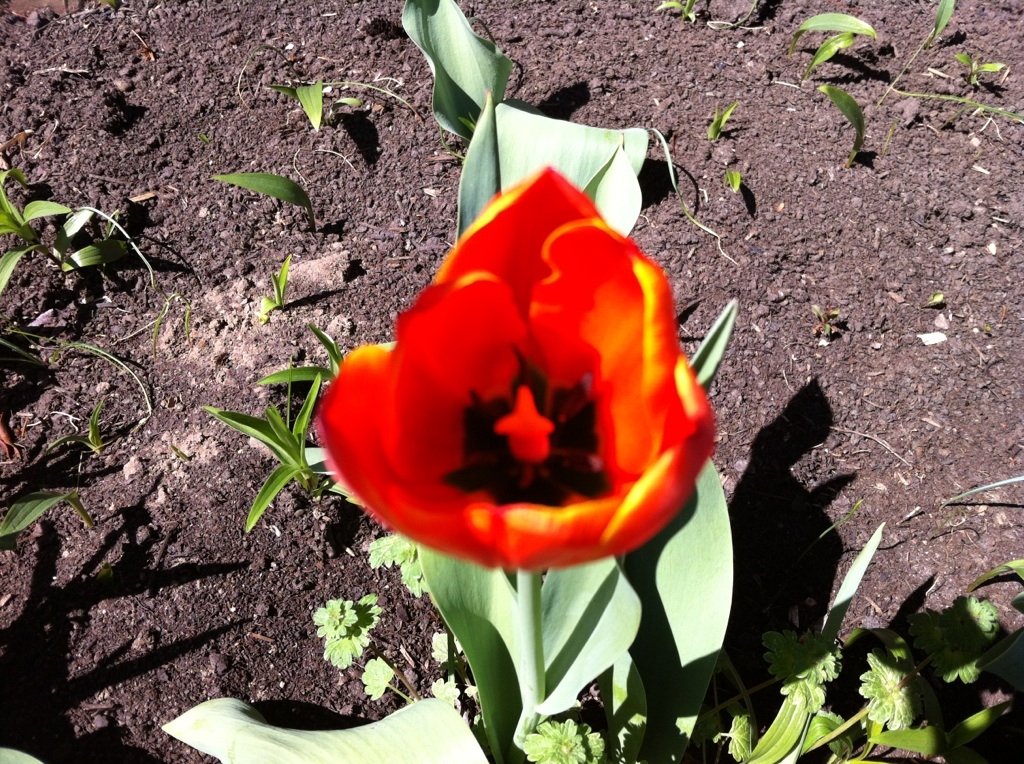 It sprouted so very early—along with an array of baby weeds and lots of bright or creamy yellow daffodils and various young plants we've yet to identify after thoroughly weeding overgrown beds (we'd not gotten to since moving in) and amending the soil last fall. This tulip appeared before the gardening season began. Suddenly, there it was, surrounded by weeds. I've never weeded in New England in March. We're usually lucky if the snow's melting enough by Easter for children to have egg hunts outside! More than once, it was so cold outside that I had to hide eggs all over the house. 
And so I celebrated the arrival of this tulip by taking her photo and gazing into her deep orange, just-opening bloom, admiring her vivid yellows and tinges of rose.
And then, yesterday morning, we woke to snow.
I opened a set of shades to what looked more like a first, light snow—except the trees are just starting to bud. Everywhere, you can see the faint green pointillism of early spring. The winter landscape I'd been longing for and missing all 'winter" had arrived, again, with the daffodils and first tulip.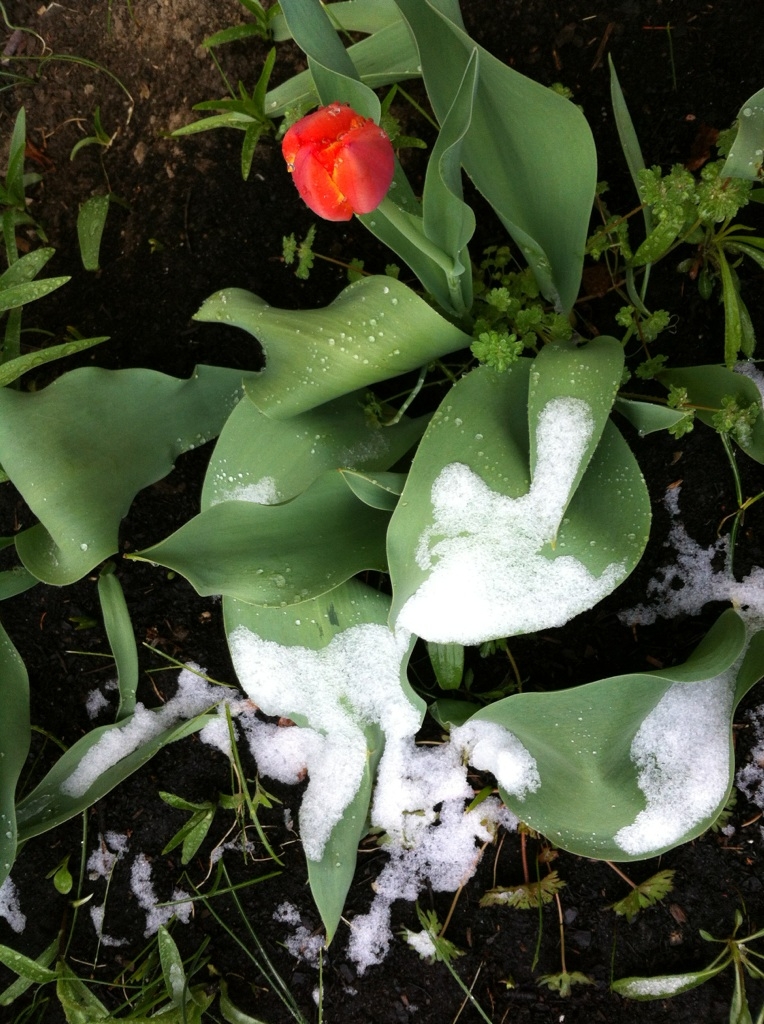 Notice her sensible reaction—closing her bloom to hide and protect her gorgeous face.
Sadly, it makes sort of illogical sense, considering the late October storm that cancelled Halloween, snapped too-heavy branches unaccustomed to the combination of autumn leaves and so much snow, and left our town and surrounding areas devastated and without power.
The extensive damage to local trees has left everyone wondering what to expect with spring. The towering maple in our backyard has a notable gaping V where a section  of its top branches used to be. And I haven't forgotten the April Fool's Day blizzard of 1997, when I lived in Massachusetts, which concealed small cars and the tires of trucks. Anything's still possible. In Vermont, I've seen snow in May…
As much as I knew I needed to get down in the dirt and snow and start weeding, it was hard to muster the motivation on such a cold day without a little sunshine. It was a stoke-the-woodstove-and-read kind of day. Desperate to be outside, my wife and I went for a hike. While the thin layer of snow in our yard was already starting to melt, up on the mountain things appeared more like a typical late winter day.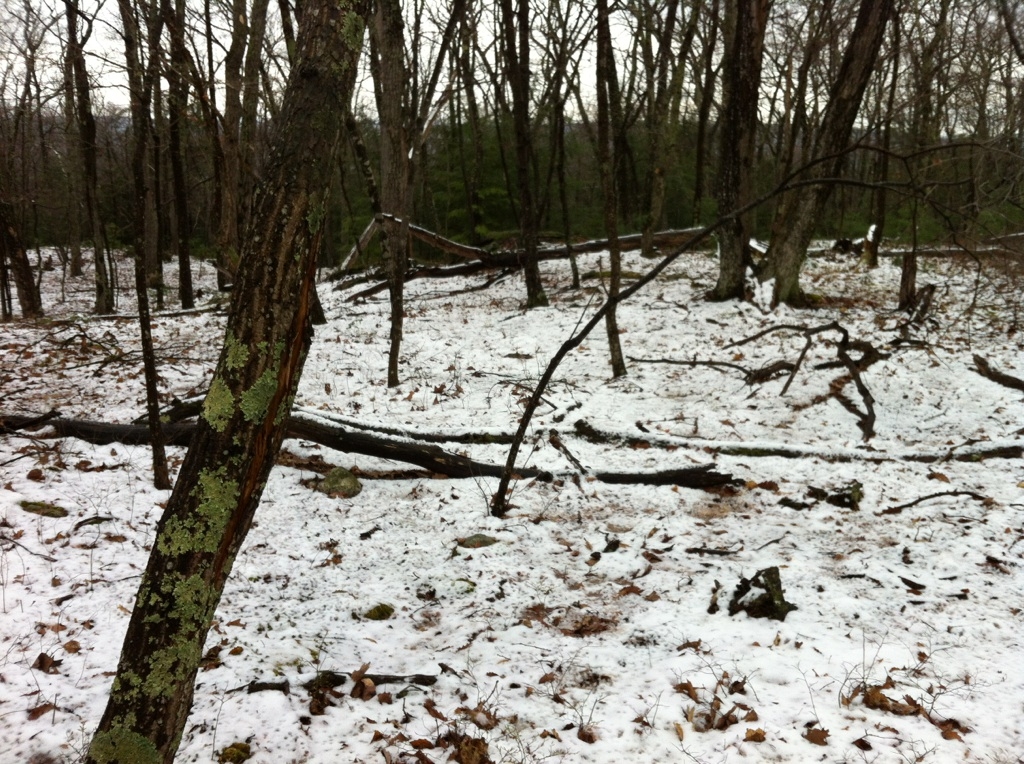 The record-breaking weather patterns of this past year have environmentalists, politicians, scientists, poets, students and civilians everywhere debating what it is we're experiencing. But regardless of how we interpret it, the discussion has moved from a more theoretical tone to a practical this-is-what's-happening-despite-how-you-explain-it tone.
And everyone's talking about it—avid gardener's and black thumb's (like me), those allergic to the outdoors and naturalists alike. What I've noticed is that many New Englanders express a guilty pleasure in the mild winter and early spring, while also feeling a real sense of loss—the loss of a season and all it provides the human psyche—and concern for the future.
On a few of our recent 80-degree days, my teenage daughter refused to wear flip-flops in quiet protest against a too-early spring. While shorts and short-sleeves suddenly appeared to wear teenagers everywhere, Sophie cautiously observed my skirts and summer sandals and the revelry around us.