At Bennington, I admired him from afar. How could you not?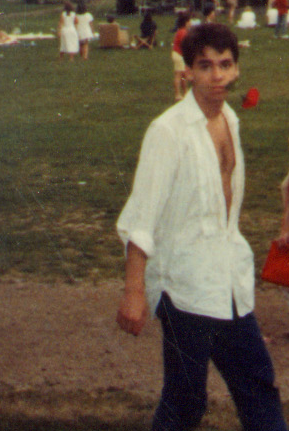 [Photo courtesy of Debra Eisenstadt Morgen]
During the past year on Facebook, I came to rely on his dear & devilish wit. When The New Civil Rights Movement blog asked me to write about Spencer, I intended to simply edit a "mini-anthology" of remembrances & began asking for permissions. However, the more I learned about Spencer, I hit a wall of questions. His death haunted me. I dreamed of him through the night & he was my first thought upon waking. In the end, I chose to follow the questions.
Asking these questions is not comfortable.
My hope is that we can come together & support the rebooting of his Medius Institute for Gay Men's Health—the legacy he intended to leave his community and the world. The reasons Medius didn't survive may be some of the same reasons Spencer didn't survive.     
I'm deeply grateful for the strong support this piece has received. For the record: Obviously, my essay skimmed the surface of Spencer's profound work. My understanding is that he focused specifically on Ritonavir and worked collaboratively to design and then personally wrote the drug trial protocol which represented a compromise that could succeed despite its controversial nature. Rather than combining specific drugs, it allowed for various combinations and could still get FDA approval. It's difficult to be accurate without going into notable detail—which would be another essay entirely, especially regarding the controversial aspects of that protocol. 
Click on the logo (below) to read this essay at The New Civil Rights Movement blog.